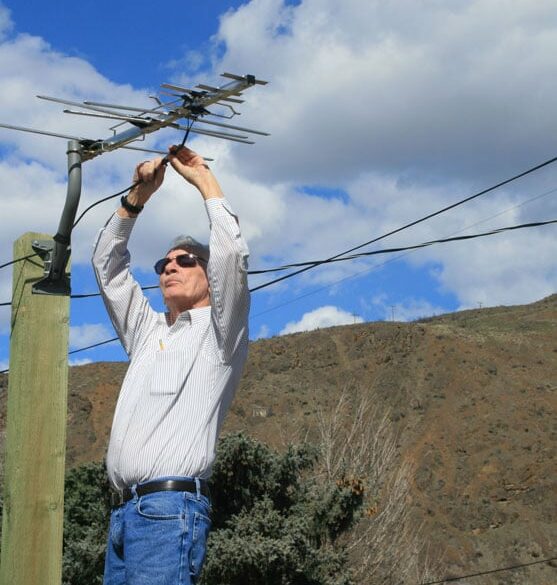 Issues With TV Reception?
If you are having reception issues and need help, please contact our technician.
Basic Troubleshooting
Make sure your antenna is still aimed correctly.
For antenna or booster recommendations, see the "Antenna Advice" section for your location.
In most situations, we recommend an outdoor booster.
If your coax cable is short (less than 10 ft), an indoor booster might work, but we recommend outdoor.
Channels might break up occasionally due to a temperature inversion or other conditions that are beyond our control.
Do not rescan if a channel seems to be off the air. If the channel is really off the air, rescanning will cause your TV to "forget" that channel and you'll have to rescan after the channel comes back in order for your TV to relearn it.
We transmit at low power per our FCC licenses.
Channel 6.3 is a sub-channel for KHQ and may be just a black screen.
Scanning and Re-scanning
To receive over-the-air digital TV channels, your TV has to scan for them.
This is typically accomplished with your TV's remote control by hitting the "Menu" button and then navigating to a "Scan", "Channel Search" or similar menu item. It can be a little tricky because there is a lot of variety in the terminology used by TV manufacturers. The User Guide that came with your TV should provide detailed instructions for scanning. User Guides can frequently be found in the tech support section of a manufacturer's website.
Do I need an antenna?
We recommend an outdoor antenna with an outdoor amplifier. Examples:
Short Range: Amazon Basics HDTV Digital Outdoor TV Antenna with Mounting Pole (Amazon.com)
Longer Range: Winegard HD7694P (Amazon.com)
Longest Range: Channel Master 2020 (Walmart.com)
Important: The advertised range is just a rough guide to antenna gain, not to be taken literally.
Do I need a signal "booster"?
We recommend an outdoor amplifier (aka booster) for most subscribers unless you are very close to a transmitter site and have an unobstructed view (line-of-sight). Examples:
IMPORTANT: You'll need a short (~3 ft) piece of coax cable (Amazon) to connect the outdoor part of the amplifier to the antenna.
What about the cable from the antenna to the TV?
We recommend using RG6 coax cable (Amazon examples) for better performance.
---
If you are having reception issues and need help, please contact our technician.