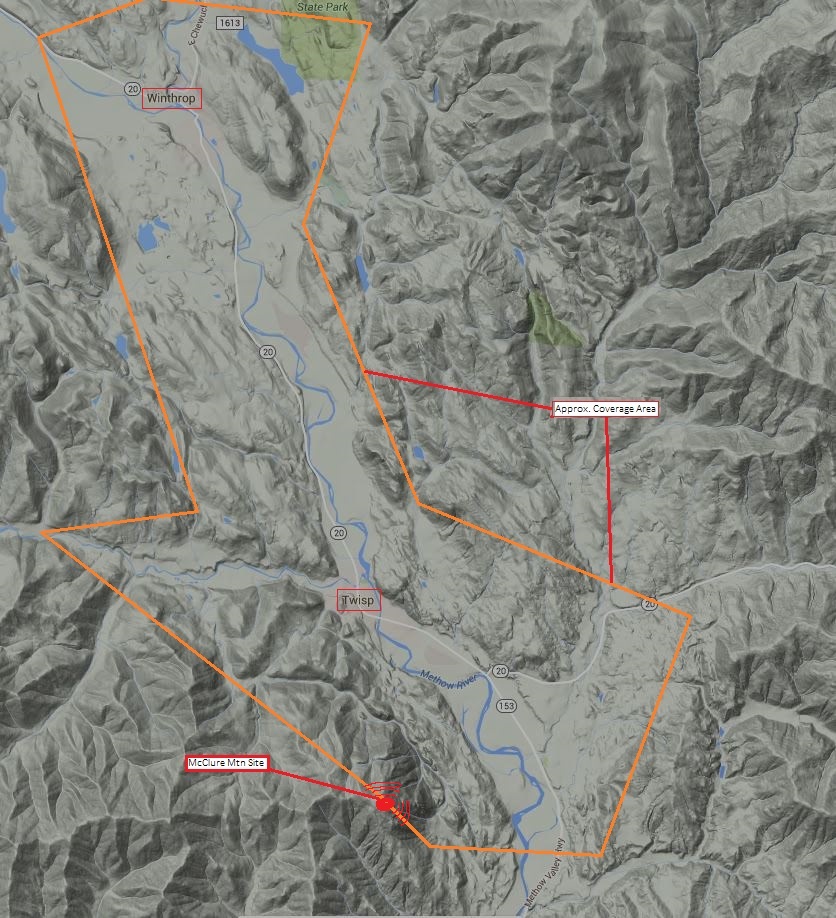 McClure Mountain serves the middle section of the Methow Valley, from Benson/Texas Creek to the Rendezvous north of Winthrop.
Coverage depicted in the orange area is approximate
If you are having reception issues and need help, please contact our technician.
(Click on the image for a larger view)
Digital TV Information
2.1 KREM (CBS, SD)
4.1 KXLY (ABC, SD)
6.1 KHQ (NBC, SD)
6.1 KHQ (NBC, HD)
6.2 KHQ SWX (NBC, SD)
6.3 KHQ (no program) (NBC, SD)
7.1 KSPS (PBS, HD
7.2 KSPS World (PBS, SD)
7.3 KSPS Create (PBS, SD)
7.4 KSPS Kids (PBS, SD)
28.1 KAYU (FOX, HD)
28.2 This TV (KAYU subchannel, SD)
(Note: SD = Standard Definition, HD = High Definition)
If you have a line-of-sight view of McClure Mountain, you should be able to get good reception if you use an outdoor antenna. A preamplifier (booster) may be needed for best reception.
Make sure your antenna is pointed at the correct mountain! McClure is the big mountain directly south of Twisp. You can see transmitter towers at the top (you may need to use binoculars).
McClure Antenna Recommendations:
Indoor antennas are not recommended and probably will not work.
Our transmitters on McClure Mountain are in the VHF range (no UHF). Our other sites have at least one UHF transmitter.
Best antenna for McClure:
Stellar Labs 30-2475 – Fringe Directional Antenna (Amazon.com)
Note that it is VHF only and might not not suitable for our other sites!
If want to try a smaller antenna and have closer line-of-sight:
Channel Master Stealthtenna (Amazon.com).
For more difficult locations, this is a 7 ft long, VHF-only antenna: Stellar Labs 30-2476 (Amazon)
If you try a different antenna, make sure it is "directional" (as opposed to "omnidirectional").
Do I need a signal "booster"?
We recommend an outdoor amplifier (aka booster) for most subscribers unless you are very close to a transmitter site and have an unobstructed view (line-of-sight).
If you are having reception issues, go to our troubleshooting page
If you are having reception issues and need help, please contact our technician.